"Pete's" News Corner
  Your advocate for PURE Gasoline        "Laissez les bon temps rouler"                      Contact "Pete" at:                        way2gopete@yahoo.com                    ————————————————————————————————- 
    *    

*  

  *    

BREAKING NEWS

   

*    

*

   

*
CHALMETTE REFINING PETITION! 
PLEASE JOIN THE PETITION!
NOTICE TO ALL READERS:

 
PLEASE READ a letter which I am mailing to all refinery CEO's who operate an oil refinery in Louisiana today.  I am URGING them to please supply us MORE non ethanol gasoline.  The letter can be found on the website's "Pete's Articles" page.  
PLEASE JOIN THE CHALMETTE REFINING PETITION.  Look to your right and Just click the ORANGE "Sign Petition Now" button on top right.  
READERS:  PLEASE, PLEASE continue to inform ALL your friends and neighbors about the petition and urge them to sign up.  I'd like to get at least 50 MORE signatures on the petition to allow for some who did not list their address.
NOTE:  You cannot join the Petition from a Smart Phone!  It must be done on a desktop or laptop computer!
As of late this afternoon (8/30), we now have 1,002 signed Petitions (ONLY 1 new one since Saturday)!  I'd really like to get about 50 more to allow for some errors or petitions without addresses.   PLEASE be sure to tell ALL your friends to sign the petition.
IMPORTANT:   I posted short instructions on the "Petition" window after you click on the ORANGE "Sign Petition Now" button.  It is IMPORTANT that ALL fields on the form be completed, NOT only the "*" lines.  ALSO, after completing the form, after AGAIN clicking the ORANGE "Sign Petition Now" button, please check your e-mail to click the link provided in the e-mail to REGISTER your petition. 
——————————————————————————————————-                                                                                                                                          IT'S NOW TIME FOR "ROUND 2″
I'd AGAIN like to ask

ALL READERS

to call each of the phone numbers listed below for Chalmette Refining and leave a POLITE message URGING them to resume the production and sale of ethanol FREE gasoline! I have asked my webmaster if he can design a new page for a "

Petition

" to ask Chalmette Refining to resume the sale of conventional, ethanol free gas.  Will announce if/when he can get this done. 
I am VERY DISAPPOINTED to report that Chalmette Refining has apparently "BACKED OFF" from earlier expectations that they would resume the manufacture and sale of conventional gasoline from their truck rack at the refinery!  That information comes from some of their distributors.  I spoke to Chalmette Refining's Public Relations Manager Patrick Trahan today (7/3), and, as usual, he would NOT provide ANY information!  This is the most "SECRETIVE" organization I've ever dealt with, EVER!   I don't know if they are backing off because consumers have 'quieted down', thinking this has blown over or not?  
MEANWHILE, I URGE all readers to "AMP UP THE NOISE" on Chalmette Refining IMMEDIATELY – ROUND 2!  
I would ask that all readers phone the phone numbers I've listed below, AND, write a short, polite letter to Mr. Maxwell, the Chalmette Refining Plant Manager urging him to please resume the sale of Eo as soon as possible.  I will also write a letter to him and will cc the CEO of Exxon/Mobil also.   Here are the Chalmette Refining phone numbers to call and the address to write Mr. Maxwell: NOTE:  Since Chalmette Refining also previously supplied ethanol free gasoline to the western side of Mississippi, I ALSO ENCOURAGE OUR MISSISSIPPI READERS TO CALL THESE PHONE NUMBERS ALSO!
I URGE EVERYONE TO CALL EACH PHONE NUMBER AT LEAST DAILY OR MORE OFTEN AND TAKE A FEW MINUTES TO WRITE A SHORT, POLITE LETTER TO THEIR PLANT MANAGER ALSO, URGING HIM TO PLEASE RESUME THE SALE OF ETHANOL FREE GAS……… FLOOD THE LINES AND MAIL BOXES – LET THEM KNOW WE ARE SERIOUS and WILL NOT TAKE NO FOR AN ANSWER!!!
- Community Hotline: (504) 211-1101
- Public Relations Manager Patrick Trahan    
(504) 281-1409 (office)      (832) 421-1995 (cell)
- Ms. Jackie Autin – Head of Product Quality  
(504) 281-1534 (office)     (504) 250-6964 (cell)
Mr. Wade Maxwell, Plant Manager                                                               Chalmette Refining                                                                                                     500 West St. Bernard Hwy                                                                                       Chalmette, LA 70043 ===================================================== 
TODAY'S ARTICLE : Today I posted an ethanol related article which discusses how fuel cells, ethanol and wind energy sources are pushing for recognition.   
SPORTS ARTICLE:  Today (8/31), I posted a sports article from the Bleacher Report in which the author makes "5 Bold Predictions for LSU's 2014 Season".   Read the article in the LSU section below.
GUN CONTROL  NEWS:  I posted (8/23) a new gun control article from The Washington Times titled "Lyons: Small-Arms Treaty, Big Second Amendment Threat".  For readers who are not familiar with the United Nations Small Arms Treaty, it is VERY IMPORTANT that you read this article.  The UN has for several years attempted to develop a document that most Nations could support.  They completed their proposal in 2013 and, Obama directed Secretary of State John Kerry to sign the document in early 2014.  The treaty requires approval by the U.S. Senate before it becomes law in the U.S.   In a "straw vote" in 2013, BEFORE Kerry signed the Treaty, Senate leader Harry Reid took a vote of the Senate to see if he had enough votes to approve this Treaty.  He was short by about 8 votes.  BUT, it is important to know that Louisiana U.S. Senate Mary Landrieu voted FOR this Treaty!  In other words, she would have the U.N. take away the private ownership of guns in America and essentially negate our Constitutions 2nd Amendment.  
I URGE all gun owners and 2nd Amendment advocates to read this article and read the U.N. Treaty document below the article.  It is CRITICAL that we call, write and e-mail our Louisiana and Mississippi Senators at least weekly and URGE your Senator NOT TO VOTE for this U.N. Small Arms Treaty should it come up for a vote in the Senate.  
If the Senate approves this Treaty, kiss all your weapons goodbye!  This is VERY SCARY!  Read the article in on the website's "Gun Control in America" page.
This is yet another reason why if we value our 2nd amendment rights, it is CRITICAL that we WAKE UP and write, call and e-mail our U.S. Senators and Congressmen and URGE them to protect our 2nd Amendment rights.  In so doing, you should make it very clear that ANY elected official that votes FOR new gun laws will NOT get your vote.  ALSO, if you are not already a member of NRA, I urge you to join.  They are a very powerful lobby force in Washington and need our support.  See the link to join below.
——————————————————————————————————-
YOUR HELP IS URGENTLY NEEDED: 
American gun owners and defenders of the 2nd Amendment NEED HELP in fighting off the Government and State 'gun control' advocates!  If you are not currently a member of the NRA (National Rifle Association) or the NAGR (National Association for Gun Rights), you are urged to join TODAY.  
Here's how (the NRA is the most powerful and influential):
NRA:   http://home.nra.org/
NAGR:  http://www.nationalgunrights.org/                                                 
——————————————————————————————————-
Chalmette Refining Issue:
Here is information on Chalmette Refining: 
Chalmette Refining, LLC (A joint venture between Exxon/Mobil (50%) and PDVSA (50%) the Venezuelan State Oil Company.  Exxon/Mobil is the operating partner)
500 West St. Bernard Hwy, Chalmette, LA 70043
- Main Phone: (504) 281-1212  
- Community Hot Line: (504) 211-1101
Plant Manager – Mr Wade Maxwell
Public Relations Manager – Patrick Trahan (see phone above)
——————————————————————————————————-
I URGE all readers to call Chalmette Refining's Community Hot Line and URGE the Plant Manager to re-consider their decision and CONTINUE to manufacture ethanol FREE gasoline.  Also, below are the names, e-mail addresses and phone numbers of Louisiana and Mississippi U.S. Senators and how to contact your U.S. Representative.  I also URGE you to "flood your Senator and Representatives's phone lines" AND e-mails and DEMAND that they REPEAL the EPA's Renewal Standard and allow the free market to determine if consumers want 'corn gas' and high food prices.  
I ALSO URGE you to have them contact Chalmette Refining's Manager and ASK him to PLEASE continue to manufacture ethanol FREE gasoline!
——————————————————————————————————-
Here are the U.S. Senator and Representative contact information: 
LOUISIANA U.S. CONGRESSMEN:
Senator David Vitter:
http://www.vitter.senate.gov/contact/email-senator-vitter
516 Hart Senate Office Building, Washington D.C. 20510 D.C.
Phone: (202) 224-4623  -  D.C. Fax: (202) 228-5061
- Metairie Office: (504) 589-2753  
- Baton Rouge: (225) 383-0331
- Lafayette Office:  (337) 993-9502
- Alexandria: (318) 448-0169
- Monroe Office: (318) 325-8120  
- Shreveport: (318) 861-0437
- Lake Charles Office: (337) 436-0453
Senator Mary Landrieu:
http://www.landrieu.senate.gov/?p=contact
703 Hart Senate Office Building, Washington D.C. 20510
D.C. Phone: (202) 224-5824 – D.C. Fax: (202) 224-9735
- New Orleans Office: (504) 589-2427
HOW TO CONTACT YOUR U.S. REPRESENTATIVE:
http://www.contactingthecongress.org/
——————————————————————————————————
MISSISSIPPI U.S. CONGRESSMEN:
 Senator Thad Cochran:  http://www.cochran.senate.gov/public/index.cfm/email-me
113 Dirksen Senate Office Bldg, Washington D.C. 20510 D.C.
Phone:  (202) 224-5054 
- Jackson Phone: (601) 965-4459  
-  Oxford: (662) 236-1018
- Gulfport Phone: (228) 867-9710
Senator Roger F. Wicker:  http://www.wicker.senate.gov/public/index.cfm/contact
555 Dirksen Senate Office Building, Washington D.C. 20510
D.C. Phone: (202) 224-6253  -  Fax: (202) 228-0378
- Tupelo Office: (662) 844-5010  
-  Jackson: (601) 965-4644
- Hernando Office: (662) 429-1002
- Gulfport: (228) 871-7017
HOW TO CONTACT YOUR U.S. REPRESENTATIVE: http://www.contactingthecongress.org/
——————————————————————————————
 

*    *    *
WEBSITE
 NEWS
*    *    *
I would guess that the number of stations that have chosen to either stay with non ethanol gas or switch to "corn gas" after the Chalmette Refining disappointing decision to stop the manufacture of "good gas" has settled down by now.  I have therefore resumed my update of our website's Louisiana ethanol free gas list.  As I indicted when I began this considerable effort, I will update the list on the website when I am completed.  This is a VERY time consuming effort, so bear with me.  
Finished LaSalle and Lafayette Parishes today.  Next, will tackle Lafourche which is a very large one.  I've been too busy preparing my letter to the Louisiana Refinery CEO's to work on the E0 list update.  Hope to resume this week.
——————————————————————————————————-
  *    *    *

 

TODAY'S NEWS ARTICLE

    

*    *    *

 
Today I posted an ethanol related article from Investor's Business Daily titled "Fuel Cells, Ethanol, Wind Pushing for Recognition".  According to the article, "The boom in U.S. oil and natural gas production unleashed by new technologies has seized global attention. But makers of alternative energy products have also been grabbing attention among investors as developing technologies begin to mature.  The most high-profile stocks receiving that attention include electric-car maker Tesla Motors ( TSLA ) and solar-components producers such as First Solar ( FSLR )".  The article also discusses the increasing popularity in wind power and how billionaire Warren Buffet has increased his investment in wind.  
——————————————————————————————————-
*   *   *  FOOTBALL SEASON IS HERE   *   *   *
LSU Tigers are ranked 13th in Pre-Season Polls – August 30, 2014
Here is the Tigers 2014 football Schedule:  www.lsusports.net/SportSelect.dbml?&&DB_OEM_ID=5200&SPID=2164&SPSID=27811
To buy available individual game tickets, click on this link:                  
LSU Football Ticket  Link: www.lsutix.net.
—————————————————————————————————
LSU GAME SCHEDULE WITH DATES/TIMES/TV
8/30 -  WIN:  LSU  28 – Wisconsin 24 
9/6 - LSU vs Sam Houston St – Death Valley – 6:30 pm – SECN TV
9/13 - LSU vs UL Monroe – Death Valley – 6:00 pm – ESPNU TV
9/20 - LSU vs Mississippi State – Death Valley – TBA – NO TV/98.1 FM
——————————————————————————————————
      *   *   *   *   2014 FOOTBALL NEWS   *   *   *   *
It wasn't pretty, but "a WIN is a WIN"!  LSU was down 24 – 7 at the half, but came back in 2nd half to score 21 unanswered points.  Anthony Jennings did very well and Kenny Hillard was the dominant back with over 100 yards.  Both Brandon Harris and Leonard Fournette played, but neither did very well.
—————————————————————————————————-
Here is a link from DandyDon.com for the recently announced 2014 LSU Football Team "ROSTER":
Link:  http://www.dandydon.com/lsu_football_roster.php
——————————————————————————————————
Here is a link to a video tour of the new and  expanded LSU Tiger Football Stadium:
Link:   www.lsusports.net/ViewArticle.dbml?DB_OEM_ID=5200&ATCLID=209600888                                                   —————————————————————
Here is an interesting article from Bleacher Report which makes 5 bold predictions for LSU's 2014 season.  I sure hope the author is correct in his predictions, because Saturday's first game showed there is a lot of work to be done yet:  
5 BOLD PREDICTIONS FOR LSU's 2014 SEASON
By Carter Bryant/Featured Columnist – Bleacher Report – August 29, 2014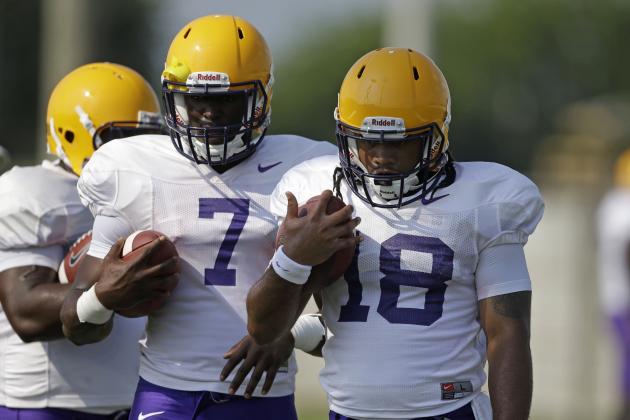 Leonard Fournette and Terrance Magee
LSU head coach Les Miles has been remarkable.  Miles has won 95 games in nine seasons, which is eight more than any other SEC program in that span. LSU has gone to a bowl game and finished in the AP Top 25 in each of those years as well.
This season could be Miles' toughest. LSU enters 2014 with much uncertainty, especially on offense. But a talented class of freshmen could lead the Tigers back to Atlanta for the SEC Championship Game.
Here are five bold predictions for the Tigers this season.
LSU Wins 10 Games
LSU will finish 2014 with a final record of 10-3, making it five straight years the Tigers will have accumulated double-digit wins.
A win to start year No. 10 of the Miles era will not be easy. Saturday, LSU will face Wisconsin in the 2014 AdvoCare Texas Kickoff in Houston, Texas. The Tigers and Badgers were ranked No. 13th and 14th respectively in the preseason AP Top 25.
LSU's SEC West slate will be brutal. Alabama and Auburn are the popular picks to top the conference, but emphatic wins from Texas A&M and Ole Miss on Thursday night showed they will be in the mix. Arkansas and Mississippi State are no pushovers either, as both teams return experienced starters on both sides of the ball.
The Tigers have rough patches throughout their schedule, highlighted by back-to-back road contests against Auburn and Florida. Nevertheless, expect LSU to find a way to make it to 10 wins.
Leonard Fournette Rushes for Over 1,100 Yards
LSU running back Leonard Fournette will captivate the college football world in 2014. Fournette is LSU's most talented running back despite never having played a college down. Seniors Terrence Magee and Kenny Hilliard will still get carries, mainly though to give the 5-star talent from New Orleans a breather.
Quarterback Brandon Harris and receivers Trey Quinn and Malachi Dupre are other true freshmen that will get their opportunity to shine. But expect Fournette, Miles' most prized recruit ever, to lead the way. He accumulates over 1,100 yards and scores eight touchdowns.
DeSean Smith Scores Five Touchdowns
LSU has not had a tight-end catch a touchdown pass in the past two seasons. Sophomore DeSean Smith will look to change that trend in 2014.
Smith's 6'5", 242-pound frame will give defenses nightmares in the red zone. He has great hands and displayed better separation skills in his route-running this spring.
A tight end can be a young quarterback's best friend. Whether it is freshman Brandon Harris or sophomore Anthony Jennings under centre, expect them to target Smith often.
LSU's Secondary Will Be the SEC's Best
Class will be back in session for "Defensive Back University" in 2014.
Sophomore cornerbacks Tre'Davious White and Rashard Robinson will form the best duo in the conference. White and Robinson's ability to play man coverage will open up the playbook for innovative defensive coordinator John Chavis. Backups Jalen Collins and Ed Paris will also contribute.
Chavis must find the two safeties that work together the best. Jalen Mills, Corey Thompson, Rickey Jefferson and Ronald Martin all return with starting experience, but 5-star freshman Jamal Adams has created buzz at fall camp for his playmaking ability.
Mills and Dwayne Thomas will be effective blitzers when Chavis' runs his 3-2-6 "Mustang" package. The Mustang was the most effective formation for the Tigers' 2011 SEC Championship Unit.  LSU's defense will lead the conference in interceptions and passing yards allowed in the SEC.
Kwon Alexander Makes First Team All-SEC
It is time for LSU linebacker Kwon Alexander to shine.
Alexander started last season at strong side linebacker and averaged five tackles per game. He moved to weak side this offseason to replace leading tackler Lamin Barrow.
The position switch will free up Alexander to make more plays. In the spring game, he returned an interception for a touchdown.
Alexander's athleticism allows him to play both the run and pass effectively. Chavis will use this to his advantage next season when calling plays.
Link to Article:  http://bleacherreport.com/articles/2179926-5-bold-predictions-for-lsus-2014-season?utm_source=newsletter&utm_medium=newsletter&utm_campaign=lsu-football
———————————————————————————
Here is a current listing of LSU Football's 2015 Committments (as of August 27, 2014):
2015 LSU football commits (15) – Star Ratings by 24/7 Sports
- Maea Teuhema (5 Star) OL, 6-4, 340, Keller, Texas, (Keller)
- Kevin Toliver (5 Star) CB, 6-2, 185, Jacksonville, Fla. (Trinity Christian)
- Nick Brossette (4 Star) RB, 6-0, 205, Baton Rouge (University)
- Jazz Ferguson (4 Star) WR, 6-5, 205, Saint Francisville (West Feliciana)
- Derrius Guice (4 Star) RB, 6-0, 210, Baton Rouge (Catholic)
- Kevin Henry (4 Star) S, 6-1, 200, Baton Rouge (Central)
- Xavier Lewis (4 Star) CB, 6'0″, 180, East St. John, LaPlace
- Bry'Keithon Mouton (3 Star), TE, 6'2″, 230, Acadiana HS
- David Ducre (3 Star) FB, 6-0, 230, Mandeville (Lakeshore)
- Matt Wommack (3 Star) OL, 6-7, 320, Hernando, MS
- Adrian Magee (3 Star) OL, 6-4, 352, Franklinton (Franklinton)
- Isaiah Washington (3 Star) DE, 6-3, 225, New Orleans (Edna Karr)
- Blake Ferguson (3 Star) LS, 6-1, 235, Buford, Ga. (Buford)
- Hanner Shipley (3 Star) TE, 6-5, 260, Marble Falls, Texas, (Marble Falls)
- Justin McMilan (3 Star) QB, 6'2″, 170, Cedar Hills, Texas
——————————————————————————————————–
LSU'S 2016 FOOTBALL COMMITMENTS:
LSU's 2016 Class commitments as of 8/27/2014:
- Feleipe Franks (4 STAR) - QB, 6′ 5″, 205, Crawfordville, FL
- Dee Anderson (4 STAR) – WR, 6'4", 176, Mesquite, Texas
- Stephen Sullivan (4 STAR) – WR, 6'6", 215. Donaldsonville, LA                        ———————————————————————————————————
LSU's 2017 FOOTBALL COMMITMENTS:
BREAKING NEWS
:
It was announced on Bleacher Report on August 11, 2014 that LSU 2017 commit Dylan Moses is the #1 ranked football athlete for the 2017 draft!
-Dylan Moses (5 STAR) – RB/S, 6'1″, 215, University High, Baton Rouge
————————————————————————————– 
* NEW CHANGES TO ETHANOL FREE GAS LIST *
We removed THREE ethanol FREE location in Louisiana recently:
Cash-N-Carry, 12590 River Road, Destrehan, St Charles Parish – Store Stopped selling gas!
Conn's Store, 3119 LA Hwy 146, Chatham, Jackson Parish – Store Closed (Thanks to Woody for the info)
Jim's Convenience Store, 2801 LA Hwy 306, Des Allemands, St. Charles Parish – Store CLOSED (Thanks to Mike for the info)
We added TWO new ethanol FREE location in Louisiana recently:
Race Trac, 2713 Paris Road, Chalmette, St Bernard Parish – the station sells BOTH E0 and E10 fuel. 
Riverstop (Chevron Station), 31539 Hwy 22, Springfield, LA (Livingston Parish) – the station sells E0 and E10 both
NOTE: If any reader locates a store that is selling ethanol FREE gas but is not on our list, PLEASE send me the information asked for on the "Ethanol Facts" page so we can add it to the list!
We encourage all readers to patronize retailers who sell ethanol FREE gas.  If they are not profitable selling EO, they may convert to sell ethanol gas and stores with EO will become harder and harder to find.                                             ——————————————————————————————————- 
Have a GREAT week readers!  
"Pete"